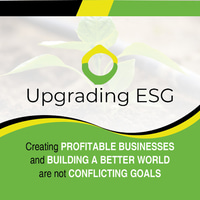 While there is an obsession with Co2 – greenhouse gas emissions, E is much more than this. There is a need for Innovation – energy efficiency, use of smart grids / renewable energy, and the introduction of ideas and technology to drive water, recycling, waste, transport, air quality, materials reusage, and end of product etc.
MEASUREMENT
This starts with measuring
CO2 REDUCTION
seeking ways to reduce
SUPPLY CHAIN
This is one of the most important consideration
CHANGE
Bring fresh ideas and Innovation to drive this change
PACKAGING & PLASTICS
An increasing area of scrutiny and legislation.
WATER USAGE, WASTE & RECYCLING
Important area for consideration
Environment
Setting the scene

Environment — Care for The Environment to make the world better for us and future generations. The fight for carbon mitigation is now a global priority. Regulations and Fines are increasing. No longer can this be ignored.
ESG in the Supply Chain
Affects every Company

The supply chain is, without a doubt, the most important and problematic area in ESG. It affects every company today. More than 70% of emissions are located in the supply chain (also known as scope 3), There are issues in the treatment of workers in the supply chain, bribery and corruption, and the use of harmful chemicals and pesticides.
The war on Plastic.
Is it Rational?

This article takes a hard and realistic look at the war on Plastic. It would appear that Plastic is an easy target, but we conveniently forget other environmental concerns.